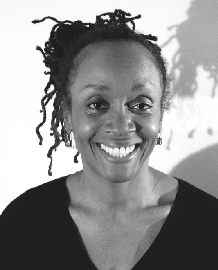 Marcea T. Daiter, Choreographer, Performing Artist, NYC Licensed Dance Educator, Capoerista, and Artistic Director of her own dance Theater Company called, Kaleidoscope of Kultures.
She earned her Bachelor of Arts degree in Sociology from Loyola University of Chicago, a Masters of Fine Arts degree in Dance from New York University's Tisch School of the Arts, is a Certified Katherine Dunham Instructor, Pilates Mat Trainer, and a Teacher of the Zena Rommett Floor Barre Technique. Marcea is a native of Chicago where she commenced her studies in Ballet, Jazz, Modern, African Dance, Dramatic Arts, Voice, and Music. In Chicago, Marcea performed and toured with Darlene Blackburn's Afro-American Dance Theater (FESTASC 1977/Black World Arts Festival in Lagos, Nigeria), Joseph Holmes, Joel Hall, Kuumba Theater Workshop, and Free Street Theater. In 1977, she relocated to New York City to further her training and knowledge in the performing and fines arts, landing scholarships at Clark Center for the Arts, and Harkness House of Classical Ballet. Marcea performed and toured with The New York Baroque Dance Company, Joan Miller Dance Players, the Eleo Pomare Dance Company, Nanette Bearden's Contemporary Dance Theater, and Fancy Dancers Inc., and has worked with noted teachers, choreographers, and directors such as Catherine Turocy, Finis Jhung, Nancy Bielski, Joao Grande, Caxias, Otis Sallid, Roumel Reaux, Gary DeLoatch, Louis Johnson, Fred Benjamin, Sheila Xoregos, John Jones, Bill Scott, John Mederios, Melvin Van Peebles, Jeff Moss, Val Gray Ward, and Wilbur Bradley. Her field study trips to Africa (Nigeria, Ghana, Togo, Uganda, Kenya, Tanzania, Gabon, Senegal), Cuba, Mexico, and within the United States to the Katherine Dunham Institute of Intercultural Studies, and Jacob's Pillow has influenced and inspired her methodology as an educator in the performing arts, instructional teaching in language arts, writing curriculum, and choreography. As an actress Marcea has appeared in several musicals, television, videos, and films. Currently she is an Adjunct Professor of Dance in the African Studies Department at New York City College of Technology (CUNY) teaching an African Dance Workshop; and a full-time Dance Educator at Wadleigh Secondary School of Performing and Visual Arts teaching Modern, Ballet, Jazz, Contemporary, and African-Caribbean dance to middle and high school students (grades 6th -12th).
Her choreography credits include: Seven Guitars, Blues for An Alabama Sky, Wedding Band, Many Colors Make the ThunderKing, Woza Albert, Crumbs From the Table of Joy, Ma Rainey's Black Bottom, The Black Picture Show, Heliotrope Bouquet, New York University's Faculty Dance Concert at Steinhardt School of Education, Avant/Aprés le Dèluge: 18th Century and Postmodern Baroque Dances at Center for Remembering and Sharing, The New York Baroque Dance Company, The Dallas Black Dance Theater, The Artists' Collective in Hartford, Conn., The 92nd St. Y Harkness Dance Center, The Summer In The Square Dance Festival@ Union Square Park, St. Mark's Church Danspace Project/City/Dans: The New York Baroque Dance Company, Ballet Arts Spring Showcase, Long Island University Faculty Dance Concert Brooklyn Campus@ the Triangle Theater, Bard College for The 1999 Humanities Teachers' Institute, The Park West Dance Theater (Artistic Director), BAM/Majestic Theater, The Institute Of Intercultural Studies/Katherine Dunham Seminar, The Haitian-American Academy of Ballet & Arts in Port Au Prince, Haiti, collaborated with Percussionist Enrique Castro in Mixing Percussion Multimedia, and Modern Dance @NYU.